I was going to write a post about how 2010 was. And how I want 2011 to be.
I will.
BUT.
First, I'll take the time out to write about...
Well, I saw this movie called 'Scott Pilgrim vs. The World' and believe me, there can be no better movie to be seen on the very last day of a year for someone who is as.. well, I don't really have a lot of adjectives for myself, so I'll just go with.. WEIRD as me. There's tons of action(that I don't really like a lot), arcade-style visuals(that I sort of liked), and best of all - one really AWESOME blue/pink/green haired chick(that, to my surprise, I really, REALLY liked)
So her name is Ramona Flowers. And she looks AWESOME. Mary Elizabeth Winstead played her in the film and I doubt I'd find her as mind-numbingly awesome as I happened to had it not been for hair. I mean, my first impression was something like, 'Eh, who's this pixie chick with pink hair?' but then it sort of changed to end up something like, 'Who is this chick with pink hair!?' You know what I mean right?
To top all of that, she changes her hair color TWICE in the film(blue and green!), which is more than adequate and double of just satisfactory. My personal favorite would be green. Or blue. Or pink. She's awesome. I'm infatuated. I'm definitely writing a short story about some chick with green or pink or blue hair. Or maybe alternating hair colors. It's one of those rare moments when inspiration seems to hit you in the face. So hard your teeth come out. And you feel so good that you wish your eyes and hair would fall out too. Know what I mean right?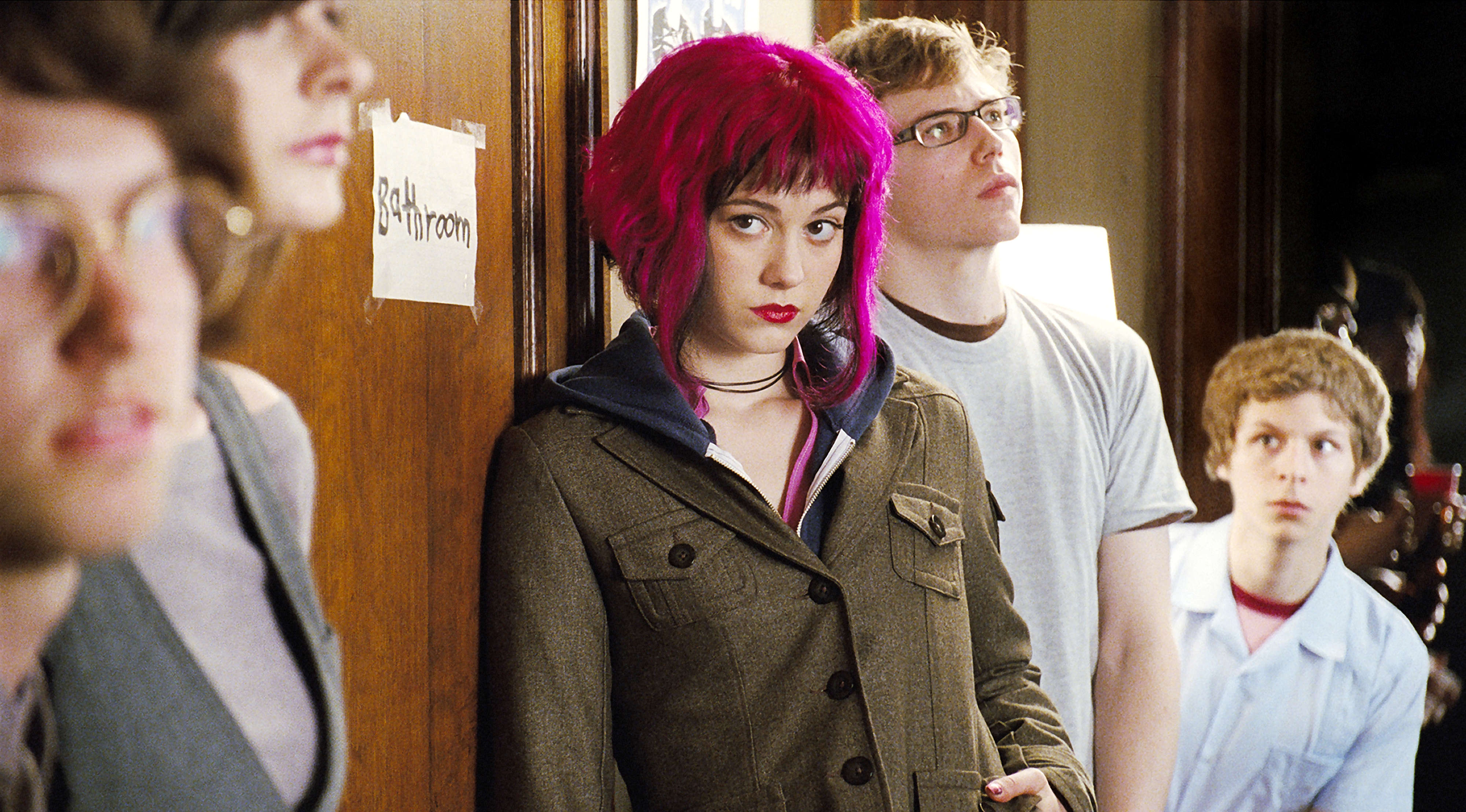 Ramona Flowers! She's AWESOME!!!
So, uh, enough rambling about pink haired chicks.
How was 2010?
Okay. Just.. okay.
I mean, could've been better but it was, uh.. satisfactory.
There were tons of firsts: First 75/80 in Maths, first blog[:D], first awesome short story, first really disgusting short story, etc, etc. I could go on, but I wouldn't want to really.
It was disappointing too. There were times I wanted to kill myself. And given the extremely fickle and impulsive nature of my mind, chances are something like that just might end up happening. But I know better now. I suppose... (O_o)
The really, REALLY cool thing about this year was that I knew what I wanted to do in-spite of the fact that I hated it. I mean, I tried studying like a dog, and for the most part I'd say I succeeded. I even did things just to stop myself from going crazy. Even though I have no chances whatsoever of ever ending up as a musician, I still continued to write meaningless songs with weird riffs. Not that I have any higher chances of ending up as an author, I still wrote short stories and poems, right? It's one of the reasons I sort of like myself. Not a lot. Just a little. Ask me how much I like myself and I'll tell you I think I'm no more than a piece of shit. PLUS. I also stuck to my 'no-dating-in-the-tenth-grade' pact, even though I had quite a lot of chances to go back on my words. :)
So. I think that should be enough for.. about an hour and a half before another year hits me fresh in my stomach and makes my hair fall out with anxiety.
What am I looking forward to?
Not much. It's going to be another year like the one that just passed my by. With love, laughter, happiness, bullshit, dumbfucks, hardships and the likes. And not to forget, tons of brain-raping studies.
2010... You came and went to quick. You just... passed out too freaking quick. Like a drunkard with the liquor holding capacity of a twelve year old.
Will I remember you for long? Well, that just depends on my, as of yet a little too unreliable, brain. No false promises, man, I'm not one of those asses who says, 'Aww, I'll never forget this!' Though I'm pretty sure I should say it at this point. But neh, I'm not one to take chances. You'd know, right?
No hard feelings, man.
You were a bitch at times. I was one too. We're even. :)
Don't really know tons about remembrance, but I sure do know that I'll miss you. I'll fucking miss you for sure.
Bubbye, man.
'Twas fun knowing you.
Time to say hello to 2011. :)